Opening at Live Oak Coffeehouse, November 9, 2001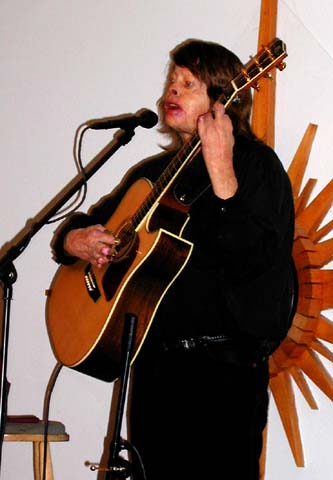 Here's a shot of me opening for Steve Gillette and Cindy Mangsen at the Live Oak Coffeehouse. Steve is a true "folk hero" -- he co-wrote "Darcy Farrow" back in the sixties, and has been writing, recording and performing ever since. Cindy, who has toured with him since 1989, writes and sings beautifully, and plays the guitar and English concertina.

It was a challenge, being up on stage immediately before two such consummate professionals.

Cea recorded my performance using a Sony minidisc recorder. For those of you interested in the technical details: She made the recording from the audience, using a pair of miniature Core Sound "stealth" microphones clipped to her glasses. I took the audio into my Roland VS-880EX, tweaked the EQ a bit, added track markers, and burned a CD. The mp3s were made from the tracks of the CD.

"At My Door (You're Welcome In)" (Live version)

"Benediction" (Live version)



Here's a link to Steve and Cindy's home page...

and here's a link to the Live Oak Coffeehouse.





---
All content copyright 2000, 2001 by Al Evans. All rights reserved.
Please contact Al Evans if you have any problems, comments, or suggestions.