<!IMG SRC="images/FromSomeFolks3.jpg" WIDTH="156" HEIGHT="56" BORDER="0" ALT="Songs from "Some Folks"" VSPACE="0" ALIGN="left" HSPACE="10">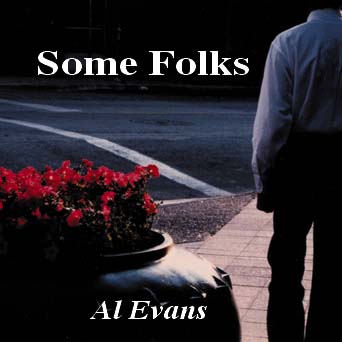 What They're Saying

I am blown away. This is the kind of songwriting that inspired me to get involved. Simple, straightforward, carried by the strength of the images and story, good structure -- the kind of writing I associate with Bob Dylan, Woodie Guthrie, or Hank Williams. --Michael Dagley

["Burnin' The Mortgage Tonight" and "Over The Kafka Line"] are wonderfully written songs, full of wry wit and clever lyricism. Al's singing style evokes memories of Burl Ives, and believe it or not, the guy who sang "Grandma Got Run Over By a Reindeer". I mean this as a compliment. There is an inviting, comfortable, and intimate feeling to these songs, and you can immediately tell that you are hearing the work of someone with a keen sense of humor and a "been there, done that" level of life experience. --Andrew Ratliff

Your lyrics just cut through the crap, get to the matter most directly. I'm loving this recording. "Landin' in a Crosswind" is every bit as haunting as I remember it from May--now there are other gems to put it in a broader context--"Storm the Gates of Heaven" and "Benediction" are particular favorites. You keep it honest, you inject some wryness, and all the while I feel your songs look me in the eye, not preach from above. --Michael DeLalla

He's seen and tasted life, and it has touched him. Here is a Phoenix-Flower risen from the ashes of the sixties... Hear his words, folks, and realise that your life, right now, is only beginning. Listen and learn. --Ray Scudero

Human beings come of age twice...in their late teens and again in their late 40's. Al Evan's first CD is a classic example of that "second coming-of-age". Poetic, realistic, somewhat autobiographical, and very easy to relate to by other baby boomers. Acoustic, clean and simple, eleven originals are all well produced and intelligent. Reminescent of James Taylor and other fine songwriters, one cut will remind you of "Time In A Bottle". Great lines in some of these songs, cut one, for example includes "The Lord says we will overcome, but he don't say when". Favorite songs include "Over The Kafka Line", "Landin' In A Crosswind", and (very favorite)"Burnin' The Mortgage Tonight". --Mike and Sue Donahoe

Note: The MP3s are on a slow server, and probably will not play correctly with a streaming player. Please download them first, then play them.
Some Folks lyrics Get Some Folks MP3!
Over The Kafka Line lyrics
Carousel Waltz lyrics Get Carousel Waltz MP3!
Trail of Broken Dreams lyrics
Landin' In A Crosswind lyrics
Pretend To Be Nice lyrics
Just A Little Girl lyrics
Wouldn't It Be Somethin' lyrics
Burnin' The Mortgage Tonight lyrics Get Burnin' The Mortgage Tonight MP3!
Storm The Gates Of Heaven lyrics
Benediction lyrics

---
All content copyright 2000, 2001 by Al Evans. All rights reserved.
Please contact Al Evans if you have any problems, comments, or suggestions.